Why Nephrolife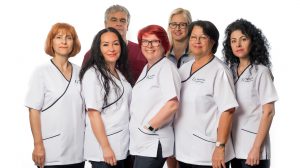 NephroLife Dialysis Center is the newest and most advanced clinic in Bulgaria. We have created a specialised team of doctors, nurses and dietitians who use up-to-date medicaments and high quality medical products and supplies. This is the first dialysis center in Bulgaria to introduce the high-tech practices already applied in Israel. We are working with leading Israeli consultants and our primary goal is to make patients feel safe and cared for. We use only brand new high quality medical equipment and consumables from Fresenius Germany which is a global healthcare company specializing in life-saving medicines and technologies for infusion, transfusion and clinical nutrition. All of this is combined with our comfortable and convenient interior and it gives us the opportunity to offer our patients the best treatment according to their specific needs. We keep up a high standard and we are always up to date with the latest news and practices applied in dialysis treatment.
Prof. Dr. Weinstein and Dr. Todorov as well as all other members of our team of specialists will contribute to the proper and complete treatment for you or your relatives.
In Nephrolife Dialysis Center your expectations for top-quality treatment and medical services meet reality.
Тhe Clinic
NephroLife Dialysis Center is situated in the city of Burgas, Bulgaria on the Black Sea coast. We have built a new and modern clinic according to the highest clinical standards and complying with all international regulations. With a surface area of 1,200 sqm we have succeeded in creating a safe and comfortable environment providing a variety of facilities and amenities that enable our experienced doctors and staff to do their best. Extensive cleaning and sterilization of dialysis machines and treatment rooms is carried out after each session.
We provide a personal TV set and headphones that will ensure privacy, and also delicious light snacks and drinks during dialysis sessions. We offer free transport services in brand new and comfortable cars to our patients. Free Wi-Fi is available all over the building as well.
At NephroLife we strive to do our best so that we can make you feel right at home and make your stay as comfortable as possible.
Services
Good personal relations between patient, their relatives and the medical team is of primary importance. Individual sentiment towards every patient is ingrained in NephroLife culture. By working that way we significantly improve the quality of the procedures, communication and last but not least the overall quality of life for our patients.
Along with the vast professional experience of our team, we will offer you consultations with nephrologist, periodic tests and monitoring of your entire physical condition, transportation services, personal TV with headphones, delicious light meal with cup of tea or coffee. We also provide parking spaces for dialysis patients and free Wi-Fi available everywhere in the center.
Comfort
In addition to top-notch medical care in our pleasant and cozy atmosphere you will enjoy a light meal and refreshments while being entertained by your favourite TV shows or radio programmes. You can even use your provided personal headphones during your stay for your best comfort and privacy. Of course at any time you can consult the always available doctor or nurse who is in the treatment room during your session, regarding all the questions that may concern you.
Our Team and Equipment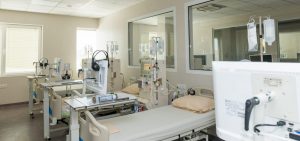 Dr. Nikolay Todorov, the Medical Director and Chief Nephrologist in NephroLife Medical Center graduated his medical education in 1977 in the town of Sofia. He has publications in the sphere of vascular access in hemodialysis patients and reports at various scientific conferences. He has acquired professional experience in the sphere of catheterization and has participated in many national clinical researches and has passed through the FDA USA assessment.
Prof. Weinstein as our chief consultant, studied at the best specialized academies in Israel and Canada. Her specialization includes renal function recovery in diabetic nephropathy, autoimmune glomerulonephritis, urolithiasis, pyelonephritis and dysmetabolic syndromes.
She is currently a Lecturer at Tel Aviv University and an Associate Clinical Professor in the Department of Nephrology at the Faculty of Medicine.
Our specialised team of doctors and nurses with more than 30 years of experience in dialysis treatment are working together to deliver the best patient care according to all international standards of medical practice.
For each and every one of our patients we use brand new and high quality medical equipment and consumables for dialysis treatment from FRESENIUS Germany 4008 S. Only that way we can establish the best quality HD treatment with proven reliability and operational efficiency.
All of our equipment is subject to strict monitoring and maintenance meeting all global health requirements. This provides both our patients and medical team quality treatment and operational safety.
Quality Treatment
• Online assessment of dialysis efficiency and dose (OCM);
• Ultrapure dialysis fluid (DIASAFEplus);
• Hygienic dry bicarbonate concentrate supply (bibag);
• AdaptedFlow for optimized use of resources.